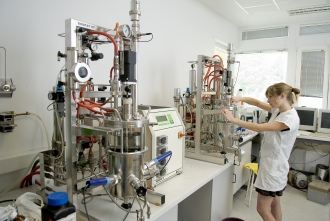 MSc in Molecular Biology and Biotechnology is a four semester program for students holding a BSc in biology. The courses cover core biology subjects such as molecular biology, genetics, microbiology, plant biology, physiology, neurobiology, anthropology, biotechnology, bioinformatics, ecology. These courses discuss the topics at advanced level, a strong comprehension of the relevant fields is therefore necessary.
Students will develop their knowledge and skills on specific fields during the MSc graduate training. The directions of specialization are: neurobiology and physiology, molecular biology and biotechnology, plant biology, supra-individual biology. Extensive personal research programs are set up with the help of tutors from the academic staff. Discovery research projects are carried out under the guidance of designated supervisors. These projects will lead to writing an MSc Thesis that has to be publicly defended.
Some of the students will find exciting research projects and supervisors for their Thesis work at the Biological Research Center of the Hungarian Academy of Sciences, the largest basic research oriented research facility of Hungary. Those who are interested in medical applications may carry out their graduate work at the Faculty of Medicine or Faculty of Pharmacology, others attracted to the food sciences or engineering aspects can join the Faculty of Engineering of the University of Szeged.
The MSc training program builds upon the general state-of-the-art biology knowledge, which is provided at many BSc curricula all over the world. The MSc graduates will find lucrative future career in many fields including research laboratories, educational institutions, hospitals, clinics, pharmaceutical, food or chemical industry, agriculture, etc. Successful graduates can also continue their study and research in the Biology PhD program.
Tuition fee: 4500 USD / semester for international students
For further information please contact:
Karoly Gulya, PhD, DSc
E-mail: gulyak@bio.u-szeged.hu