Name of the programme: MA in English Studies
Level of the programme: graduate
Length of the programme: 2 years
Type of the programme: MA program with specializations
ECTS Credits: 120
Language of the programme: English
Place of the programme: Institute of English and American Studies, Faculty of
Arts, University of Szeged, Szeged, Egyetem u. 2., Hungary
Start date of the programme: September, every year
Organizational unit: Faculty of Arts, Institute of English and American Studies
Short description of the programme:
The aim of the program is to train experts at an internationally competitive MA level in three disciplinary specialization fields of academic English studies:
- English Applied Linguistics
- British Cultural Studies: Interdisciplinary Study of Culture
- Gender through Literatures and Cultures in English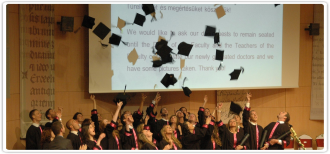 The program relies on the BA level comprehensive knowledge of theoretical and practical issues of English studies which the students must have mastered in the BA program, and the MA courses facilitate further interdisciplinary studies and research to help students arrive at a critical and advanced understanding of the social – cultural aspects and practices of English speaking countries in particular, and human civilization in general. Graduates of the program will be able to present, interpret, argue about and critically comprehend issues of language, communication, history, literature, society, gender and ideology in English in intercultural, comparative and historical dimensions. Special emphasis is on individual research work and personal consultations with an academic supervisor, especially during the process of writing an academic MA thesis, a requirement towards graduation.
The structure of the program includes:
Foundational courses (Theories and Histories of Literature and Culture, Approaches to English Linguistics, The Social Uses of Language, Research Methods in the Information Society); Specialization introductory courses (The Multimediality of Culture, English Grammar: A Systemic-Functional Perspective, Gendering Theory/Theories of Gender: A Cultural Historical Perspective); Specialization courses (Seminars and lectures in one of the three tracks). Graduates will be eligible to apply to our PhD program in Literatures and Cultures in English or in Applied Linguistics.
The program concludes with the public defence of an MA thesis.
Interdisciplinary and transdisciplinary in scope and methodology, the MA program offers in-depth knowledge in critical approaches to language and society, with three areas of specialization: applied linguistics, gender studies, and the interdisciplinary study of culture. It provides students with a multi-faceted, theoretically and pragmatically oriented knowledge of the interrelations of society, culture, language, and the English-speaking world.
Requirements: BA degree in English, or BA degree and 1-year upgrading preparatory program
Tuition fee/semester € 2000
Career opportunities: Graduates of the MA program will have the skills and expertise to successfully apply for positions in media, program organizing and knowledge management companies, academic institutions, research associations, municipalities, and other entities where a pragmatic and critical command of the English language, a thorough knowledge of English-speaking cultures, and a high level cultural literacy are required.
http://www.ieas-szeged.hu/eal/programs/ma-program
http://primus.arts.u-szeged.hu/ieas/gender/index.html
Programme co-ordinator: Dr. Attila Kiss, Chair, Department of English
E-mail address: akiss@lit.u-szeged.hu
Name of the contact person: Dr. Attila Kiss, Dr. Erzsébet Barát
E-mail address: akiss@lit.u-szeged.hu, b_zsazsa@lit.u-szeged.hu
Postal address: H-6722 Szeged, Egyetem u. 2.
Telephone no.: +36 62 544 260, +36 62 544 259
Fax no.: +36 62 544 259