Temporary Student ID
Valid (at least temporary) student ID is necessary for buying or applying for a monthly student pass, which might be useful for international students.
Required documents: an activated EHA-code (following the Neptun registration) and the student's passport.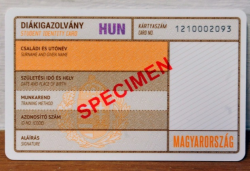 Permanent Student ID

In case of longer stays (in excess of 1 year), application for a permanent student ID is recommended.
Required documents: passport and certificate of university attendance
Process of application:
At the Okmányiroda (National Office for Legal Identification Documents) personal details are registered and a photo is taken of the student free of charge.
The student receives a form, which should be taken to the Students' Services Office (HSZI).
The actual application costs 1400 HUF. This fee can be paid on the spot by credit card or at the post office by cash.
The Students' Services Office will inform the student if the permanent student ID is ready.
In case of group arrivals (groups of 5-10 people), the coordinator should make an appointment at the Okmányiroda.
English-speaking administrator is provided at the Okmányiroda
It is mandatory to hold a student card, as it is the only way of proving that you have an active status at the University. I also entitles students to enjoy a number of discounts in many places.