The researchers and physicians at the University of Szeged strive to be faithful to its mission in health care. A tremendous amount of intellectual capital has accumulated in our institutions, and experienced physicians are followed by the coming generations of young talent year after year.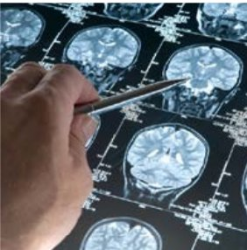 The Albert Szent-Györgyi Health Centre was established as the legal successor of the Albert Szent-Györgyi Medical and Pharmaceutical Centre in 2007, the patient care thereby becoming more integrated, more transparent and easier to organize. This was a necessary and inevitable step, since the Centre is responsible for the entire health care system of Szeged and is the most significant in- and outpatient care institution in the region. Thousands of patients are treated in the Health Centre daily, but research focusing on as yet incurable diseases has additionally been performed here for decades. Our researchers, both men and women (we are especially proud of the latter), combine their successful research activities with their educational and clinical work as instructors and physicians among the best of their profession.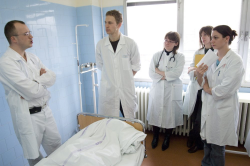 We are very proud of continuing the heritage of Szent-Györgyi: besides our research results, this is demonstrated by the thousands of patients cured in the world-class, new 265-bed hospital building. Eleven patient care units are housed in this fivestorey complex. They include the Emergency Care Unit, equipped with the most up-to-date instruments and run by the most modern patient management system. As concerns a number of technological novelties, we may highlight the pneumatic tube transport system, planned to be completed in 2015, which will deliver other medical samples to the laboratory for examination within merely a few minutes. We are very proud of having produced the most modern Surgical Centre in Hungary. The unit is equipped with state-of-the-art technology, such as high-frequency surgical, ultrasound and liver resection instrumentation.
Among the outstanding professional achievements, since the academic year 2013/2014 the training at the Faculty of Dentistry has been conducted according to a reformed curriculum. This places great emphasis on the introduction and teaching of subjects specifically customized for dental training, and also allows specialization. As a result, it fully meets the latest European Union requirements.
Nothing can illustrate the outstanding qualities of our professionals better than the number of unique operations and interventions performed here first in Hungary. Mention may be made in this respect of novel hearing device implementation surgery by Professor László Rovó at our Department of OtoRhino-Laryngology and Head and Neck Surgery. Few years ago, demonstration heart surgery was performed in our Cardiology Centre: a coronary catheterization surgical procedure was broadcast live and followed by more than a hundred physicians. In 2008, Siamese twins, Melinda and Isabella from Kispereg, were successfully separated by brilliant surgery performed by Professor Kristóf Füzesi in a 7-hour operation, the event receiving worldwide media publicity.
Since its establishment, the Albert Szent-Györgyi Health Centre has received several high-level acknowledgements. To mention merely the most recent ones: the IIASA-SHIBA Quality Management Award, and its acknowledgement as a University of Excellence.