2019. February 08.
Many students and associates of the University of Szeged go to work by bicycles. Gábor Dávid Kiss, Associate Professor of the Faculty of Economics (GTK), who has been organizing the Critical Mass (CM) for many years, considers city cycling a good thing, and he also points out that very good tours can be done on two wheels starting from Szeged.
Cycling in the city means consciousness towards the environment, it's a way of life. For Dr Gábor Dávid Kiss, DSc of the University of Szeged (SZTE), cycling is a joy of movement, and it has no bearing on the environment either. The bicycle is the fastest vehicle in Szeged: you do not have to wait for it, and as there are now bike stations in many places, you can easily park them.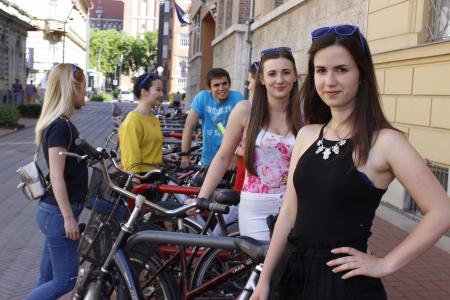 We also wanted to know whether he, one of the organisers of Critical Mass programs in Szeged thinks there will be a need to revive the big cycling co-operation some time after the last CM event. 'As with truck or motorcycle programs, cycling programs will be demanded in the future as well. Nowadays, cycling tours are becoming more and more popular, and courier competitions have also been organised in Szeged on several occasions. If an enthusiastic team gathers again that is willing to organize the event, mass events will be possible to be held the future, but not necessarily within the framework of CM.' We like to say that Szeged is a city of bicycles. Concerning the whole population, modal split is 20%, that is, if someone has to go from A to B, then 20 percent of the residents will choose the bicycle. Now that students are not provided with a free public transport pass, they may choose cycling instead, which is also supported by the bike station building programs. Fortunately, in most parts of the city, you do not have to use old types of stations damage spokes. Szeged can be considered as a city where it is convenient to live, especially if it is compared to Budapest. The fact that it is easy to ride a bike contributes to this feeling.
'If we consider the congestion of bicycle parking stations near the university buildings, SZTE is definitely a workplace of cyclists. I know that many of my colleagues also ride their bike on the way to the faculty because it is much faster than any other means of transport – a lecturer added at the Faculty of Economics and Business Administration, who also likes to take cycling tours. A Szeged-Röszke-Mórahalom circle is a very pleasant trip, with a stopover at the buffalo reserve at Mórahalom. The Szeged-Algyő-Vásárhely-Kardoskút-Orosháza route is equally beautiful, especially in the spring when the salty bush blossoms and in winter when the landscape is covered with snow. In addition, it is worthwhile visiting the pine forests of Kelebia: riding on the bicycle lane along the Highway 55, turn left at the juncture to Öttömös if you long for the smell of pines on the Great Hungarian Plain.
From anywhere to anywhere
Hedvig, an art student of Szeged has asked students about why they like to ride bicycles. Bence Papp, a second-year student of the faculty of Arts of SZTE: 'In Szeged, any place can be reached by bike in twenty to twenty-five minutes.' Maria Yurasova, a guitarist from St. Petersburg, Russia, a first year student at the faculty of Music of SZTE: 'For me, one of the most important things is the active time I spend cycling between lectures and practice. These 5–10 minutes I spend cycling home from college or back, mean a great rest for my brain and my body. A lot of fresh thoughts come to my mind during the several short rides, and I usually feel better due to riding.'
GREEN TITLE
The University of Szeged is the Greenest of University of Hungary, and it has been improving its prestigious position in the Indonesian UI GreenMetricRanking of World Universities survey since 2010. It is based on environmental awareness, the pillars of which are selective rubbish collection in the buildings of SZTE, the use of solar energy, heat wells, heat pumps, grey water systems, PlanibelTri glass technology, mini solar systems and geothermal heating systems, as well as encouraging and supporting cycling in the city. For example, with the 140 bicycle storage facilities at the Attila József Study and Information Centre, the SZTE has joined the 'Cycle to Work!' project, developed its Bicycle Strategy and has earned the 'Bikefriendly Job' title.
Éva Eső Antal
Photos: Anna Bobkó